Pakistan
Regular price
$3,150.00 USD
Regular price
$2,950.00 USD
Sale price
$3,150.00 USD
Unit price
per
Sale
Sold out
Share
HIGHLIGHTS
Area: Karakorum Highway, Northern Pakistan

Duration: 12 Days | 11 nights

Difficulty: Moderate Strenuous
Max Altitude: 15,400 Feet

Total Ride: 250KM

Total elevation gain: 7200 Feet
Bicycle: Bring your own bike (we'll take care of all logistics) OR ride one of ours

Terrain: Asphalt only
Group size: 8-15 Riders
DESCRIPTION


Embark on the Karakoram Highway Cycling Tour Joyride, a remarkable journey that sweeps cyclists from China's border to Hunza, tracing the ancient Silk Route through Pakistan's awe-inspiring Karakoram mountain valleys. The adventure commences in Islamabad and winds through picturesque Hunza Valley, culminating at Khunjerab Pass, the 15,400ft border between China and Pakistan. From here the joyride begins down till Hunza. 
Catering to both seasoned cyclists and leisure riders, the KHCT Joyride unveils the historic Silk Route, quaint towns, and enchanting hillside villages of Hunza. Immerse in a lesser-known side of Pakistan, cycling alongside glaciers and towering peaks, indulging in local cuisine by bonfires under starlit skies.
ADA meticulously manages logistics, permits, and accommodations, enabling participants to fully savor this unparalleled cycling holiday. ADA's confidence in Pakistan's allure shines, from its majestic beauty and glaciers to swinging bridges and mountain communities.
With a rich history of adventure tours, ADA's seasoned guides and local connections ensure an extraordinary experience. The Karakoram Highway Cycling Tour is a meticulously organized, exhilarating journey that unveils breathtaking landscapes, cultural immersion, and the chance to tread the footsteps of Silk Road explorers.
Included

Professional english speaking guide
Airport transfers for domestic & international flights
Internal flights and associated airport transfers
All land transport involved in the itinerary
Support/Back up vehicle
Mechanical services and basic tools while on the road
All accommodation (twin sharing basis)
All meals (Lunch-breakfast-dinner)
All sight-seeing
All tourist attractions admission fee
All permit fees, Park fees, entry fees and Government Taxes
Not Included

Travel insurance
Pakistan Visa
Tips for local guides and support staff
Miscellaneous expenses
Souvenirs and personal shopping 
Personal equipment 
Drinks and snacks
Personal expenses
Laundry services
Anything thats not mentioned in the 'whats included' section
View full details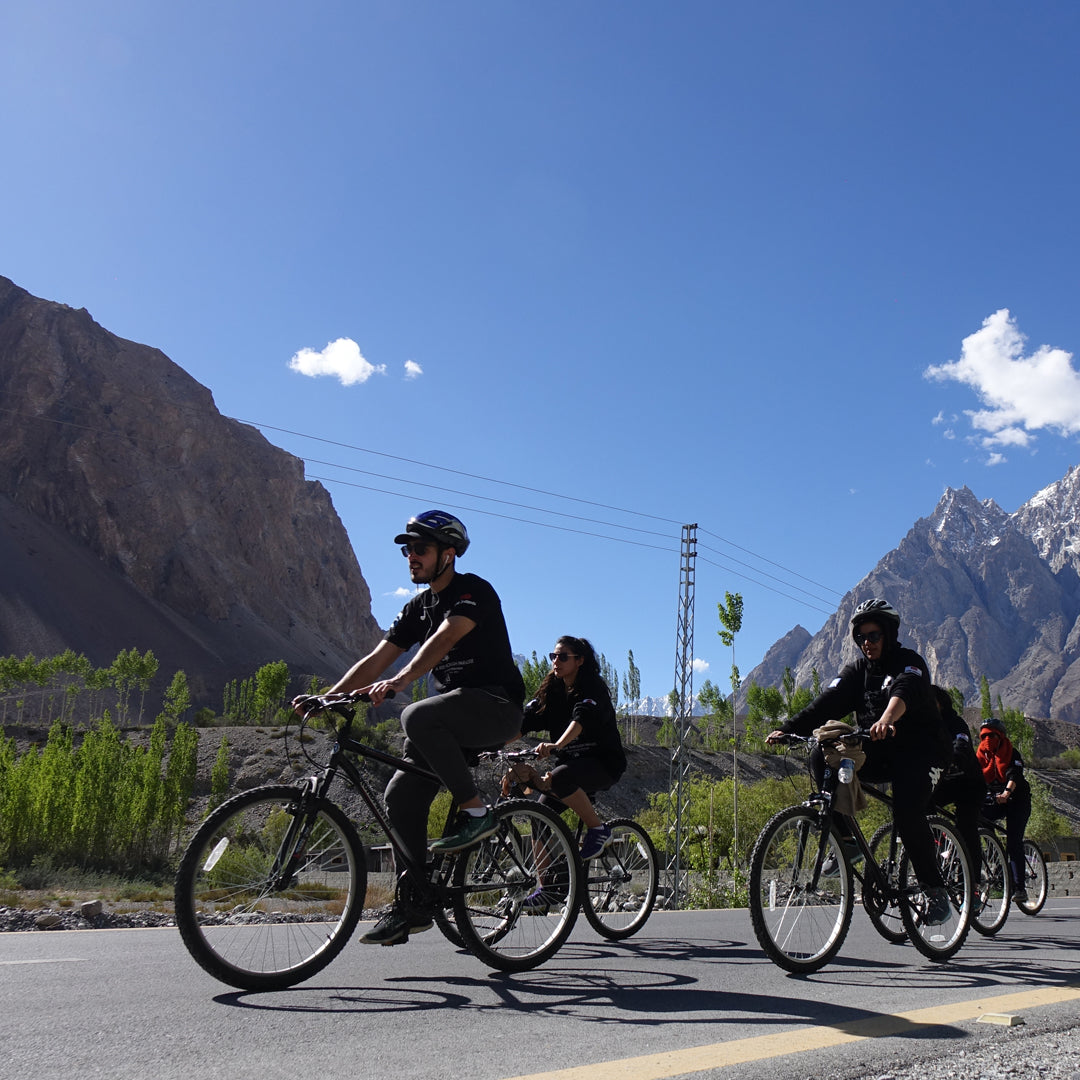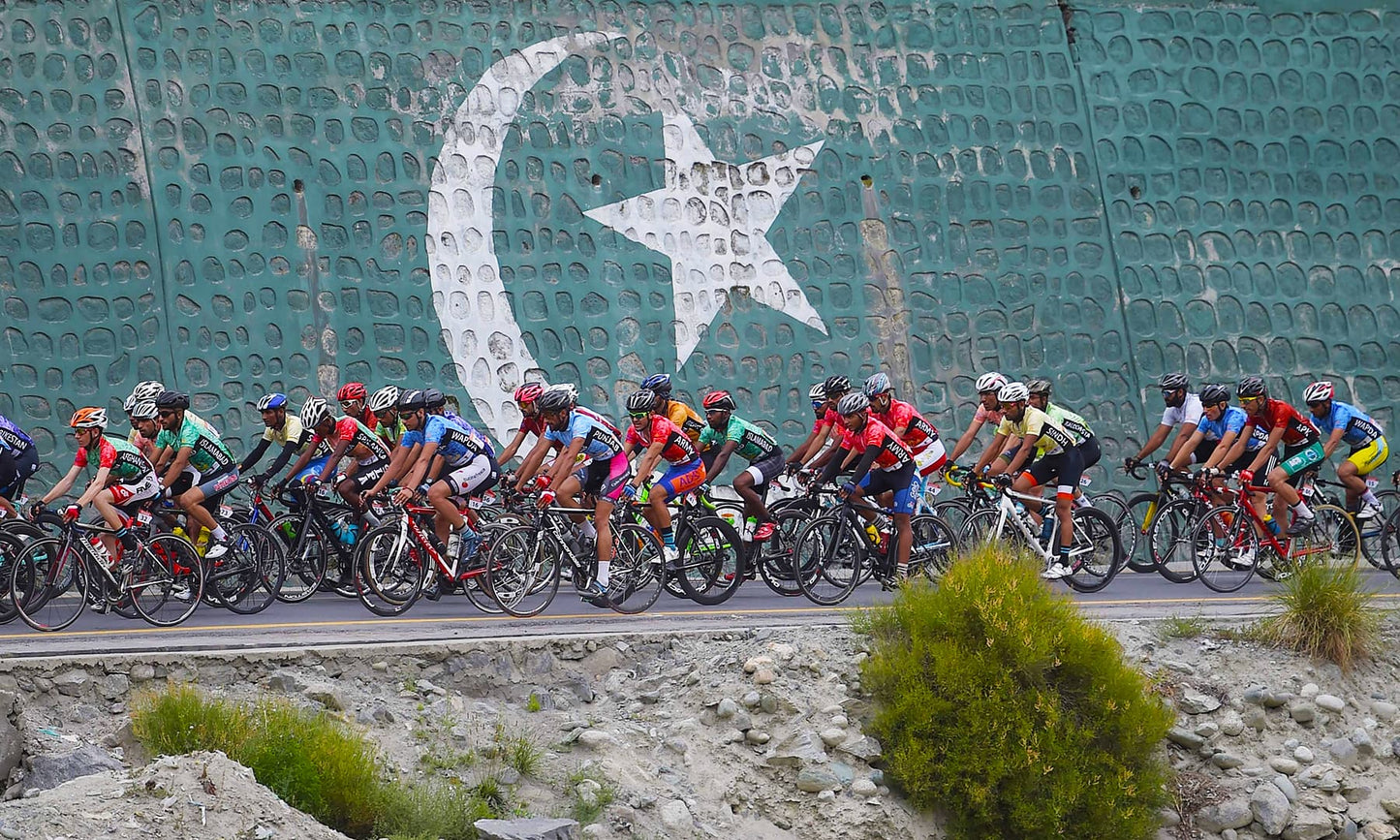 Itinerary
DAY 1: ARRIVAL AT ISLAMABAD INTERNATIONAL AIRPORT

Upon arriving at Islamabad International Airport, you'll be warmly welcomed and swiftly transported to your hotel. Take in the city's charm as you explore its attractions. Immerse yourself in the serene ambiance of the Faisal Mosque, and absorb the cultural richness of Saidpur Village.
DAY 2: FLIGHT TO GILGIT

Upon landing in Gilgit, drive to Hunza, pausing for lunch. Proceed to Sost and explore its bustling Bazar. Later, dine at Khudabad Outpost before checking into your hotel. Unwind and prepare for the next day's adventures.
DAY 3: DRIVE TO KHUNJERAB PASS

Embark on your inaugural cycling day, tackling the Khunjerab Pass to reach Sost. Beginning at an impressive elevation of 15,400 feet, your journey will lead you to an endpoint at 9,186 feet, marking a substantial descent of 6,210 feet. Covering a distance of 60 miles, this ride promises both challenges and exhilarating moments against a backdrop of stunning landscapes.

First day on the bicycle

Ride Khujerab pass to Sost 

Start elevation: 15,400 Feet

End elevation: 9186 feet 

Total drop in elevation: 6210 feet 

Total Miles: 60 Miles
DAY 4: SOST TO GULMIT

The ride from Sost to Gulmit, where your journey commences at 9,186 feet and concludes at 8,087 feet, marking a descent of 1,100 feet. Covering a distance of 40 miles, this leg of your adventure promises diverse landscapes through mesmerizing villages along the KKH, and overall a highly rewarding cycling experience.

Start elevation: 9186 feet 

End elevation: 8087 feet

Total Elevation drop: 1100 feet 

Total distance: 40 Miles
DAY 5: REST DAY OFF THE BIKES

Take a well-deserved break from cycling and spend your day exploring Gulmit. Opt for a half-day trek or simply relax amidst the apple orchard garden's. Don't miss the chance to walk across the Hussaini suspension bridge. Treat your taste buds at Yak Burger or savor the fully organic offerings of Khao Palao. This day will be a blend of relaxation and exploration.
DAY 6: GULMIT TO HUNZA, KARIMABAD

Today we'll be on a picturesque ride from Gulmit to Hunza's Karimabad. Riding alongside the captivating Attabad Lake, passing through recently crafted tunnels in the Karakoram mountains. Refuel with a scenic lunch along the way. The route starts at 2,465 meters (8,087 feet) and concludes at 2,500 meters (8,200 feet), covering a distance of 40 miles. This leg of your adventure promises awe-inspiring views and a memorable cycling experience.
DAY 7 & 8 : TWO REST DAYS. EXPLORE HUNZA.

Take advantage of two well-deserved rest days to immerse yourself in Hunza's charm. Explore the ancient Altit and Baltit Forts, each boasting a history spanning a millennium. Witness the ingenuity of the Ciqam All Women Furniture Factory and engage with local children at a school, sharing stories and laughter. Indulge in the flavors of the region with a lunch at a local eatery, where the food and warm-hearted locals are sure to captivate your senses. Discover the enchanting Karimabad bazaar and partake in the serene Water Chanel walk.
DAY 9: DRIVE TO GILGIT

You'll be driven back to Gilgit. Immerse yourself in the vibrant atmosphere of Gilgit Bazar, a bustling hub of local culture and commerce. Delve into history as you visit the Kargah Buddha site, a testament to the region's rich heritage. With each step, Gilgit's captivating blend of tradition unfolds, offering you a glimpse into its unique tapestry of experiences.
DAY 10: FLY HOME

Write to us when you reach home. Safe travels!