Pakistan
Regular price
$3,750.00 USD
Regular price
Sale price
$3,750.00 USD
Unit price
per
Sale
Sold out
Share
HIGHLIGHTS
AREA: KARAKORAM RANGE, PAKISTAN

DURATION: 15 Days, 14 Nights

DIFFICULTY: Strenuous
Max Altitude: 5614 m

Total Trekking: 150 km approx

Terrain: Rock, ice, glacier trails
Group size: 10-15 Trekkers
DESCRIPTION

Embark on the K2 Base Camp Trek, a breathtaking journey to the world's second-highest peak. Starting in Skardu, this expedition winds through rugged terrain, ancient trails, and stunning landscapes. Trek alongside like-minded adventurers, embracing local hospitality and savoring authentic cuisine under starlit skies.

As you ascend, the Karakoram Range unfolds, culminating at the iconic K2 Base Camp. ADA's expertise ensures a seamless trek, guided by experienced professionals. Stand in awe of towering mountains, glaciers, and untouched wilderness, creating unforgettable memories.

Join us for an incredible trekking experience that immerses you in nature's grandeur, cultural heritage, and the legendary K2.

Equipment List

Equipment List We are providing you with three lists for the Trek. List 1 and 2 contain items and equipment that you must bring. The third list contains optional items you might need on your trekking holiday. Based on your own judgment you can select things that you might need from the third list. List 1
– Must Bring Items:

Personal First Aid Pack (Diamox (Altitude), Dioralite (re-hydration salts), antiseptic cream, blister treatment, throat lozenges, plasters, Imodium (diarrhea treatment), painkillers)
Hiking Backpack (Day Pack) 32-42 Litres
Fleece jacket with hood or a warm jumper
Mittens or gloves
Gloves (Thermal)
Head lamp with spare
batteries
Hiking boots
Sleeping bag (-16°C comfort rated)
Sandals (sports) or old
shoes (to cross rivers)
Sun protection cream (including total block for nose, lips etc.)
Sunglasses
Sunhat
Thermarest or any similar
mat/pad for sleeping
Warm hat
Warm jacket (down)
Water bottles 1 liter (x2)
Waterproof jacket
Waterproof over-trousers
Antibacterial hand wash
Shirts/T-shirts
Small towel
Socks
Spare laces
Underwear (normal and thermal)
Trekking poles (highly recommended)
Wash-bag and toiletries
Walking socks (2/3 pairs)
Baselayer – leggings (Thermal)
Trekking Trousers
Baselayer thermal shirts (2 long sleeves, 2 short sleeves)
Mountaineering equipment (See "List 2" below)

List 2 – Mountaineering Equipments:

Crampons
Mountaineering boots that must be compatible with your crampons. Minimum Grade B2.
Ice axe
Climbing harness
Karabiner/Carabiner (screwgate type x 2)
Climbing helmet
Prusik loops X two (2) – (4 meters of 6 mm cord makes up 2)
Sling (120 cm)

Included

All transportation whilst on tour 
All accommodation whilst on tour 
Twin sharing rooms and tents
·All meals whilst on tour 
Cook: Professional cook throughout the trek to cook hygienic & fresh food.
ADA and local guides
Porters for group gear
Porterage: The allowance for your main bag is 15 kg
Entry fee: All Camping fees, government taxes.
One on one pre-tour support
Safety: Safety rope. (if required)
Not Included

Any pre-tour or post tour accommodation
Personal trekking equipment/clothing.
Extras at hotels or during traveling.
Personal insurances of clients.Any pre-tour or post tour accommodation
Personal trekking equipment/clothing.
Extras at hotels or during traveling.
Personal insurances of clients.
Mule/Horse support rental and/or evacuation and rescue charges during tour 
Any personal medication
Any expense due to forced measures, natural calamities, acts of God, forced majeure: beyond the control of ADA, their staff and suppliers.
Travel insurance
Tips for guides and porters
Sleeping bag and sleeping mat (available on request)
Anything else not mentioned
Mule/Horse support rental and/or evacuation and rescue charges during tour 
Any personal medication
Any expense due to forced measures, natural calamities, acts of God, forced majeure: beyond the control of ADA, their staff and suppliers.
Travel insurance
Tips for guides and porters
Sleeping bag and sleeping mat (available on request)
Anything else not mentioned
View full details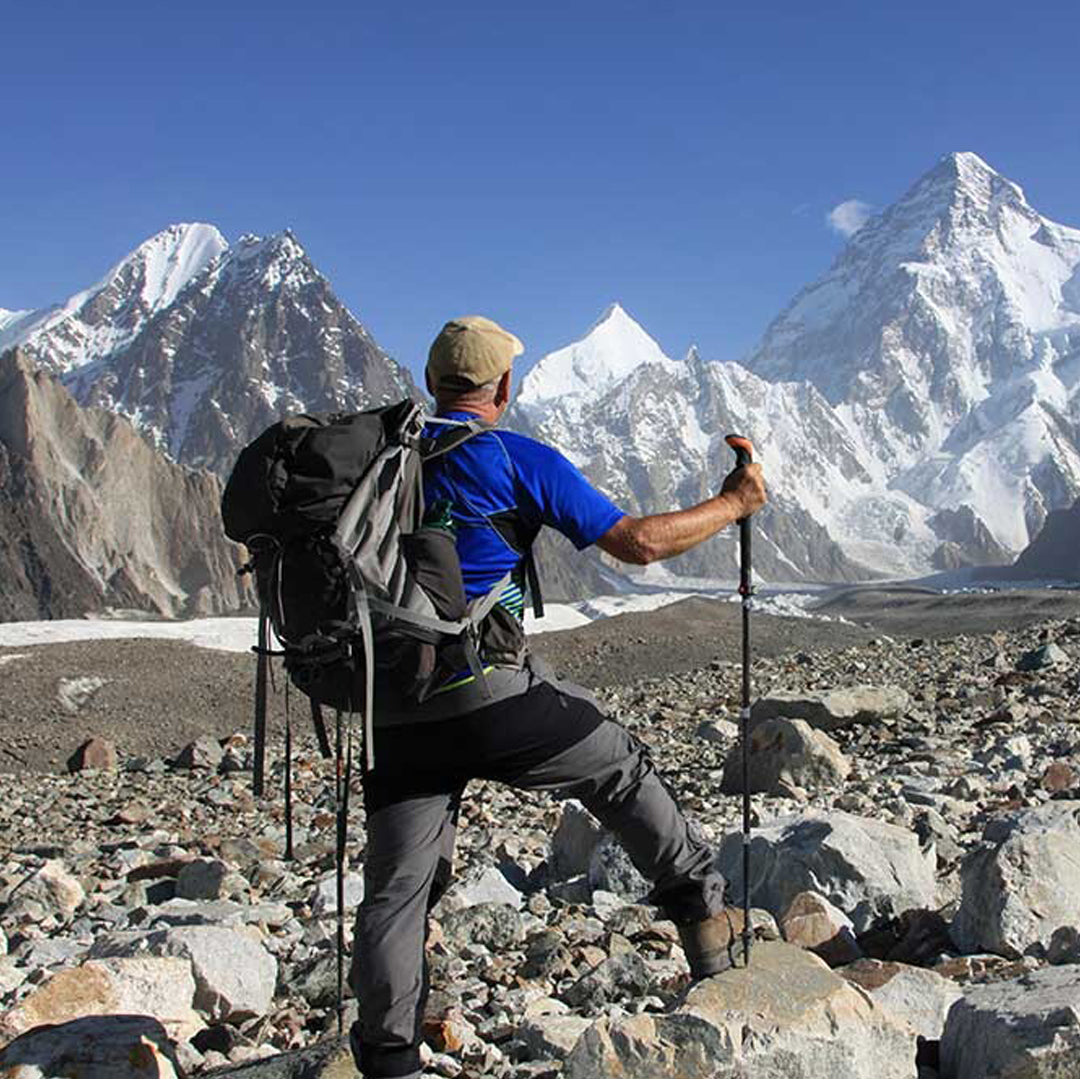 Itinerary and Map
Day 01: Arrive Islamabad, transfer to hotel.

Upon your arrival in Islamabad, you will be greeted with a warm welcome and assistance at the airport. You'll then be transferred to your designated hotel. Enjoy an overnight stay in the comfort of the hotel in Islamabad, preparing for the upcoming adventures.
Day 02: Islamabad to Skardu

Arrive at Islamabad Airport, enjoy breakfast, and then board a one-hour flight to Skardu. During the flight, marvel at the stunning vistas of Rupal and Diamir faces of Nanga Parbat, and if fortunate, catch a fleeting glimpse of K2. After landing, savor a satisfying lunch and take some time to rest and relax. You have the option to indulge in sightseeing, exploring the tranquil beauty of Satpara Lake and discovering the ancient Buddha Carving on a massive rock. Conclude the day with a delightful dinner and settle in for a comfortable night's stay at the hotel.
Day 03: Jeep drive to Askole from Skardu (2500 m)

Start your day with a hearty breakfast and embark on a journey to Askole, utilizing sturdy jeeps for the approximately 7-hour drive. Traverse the fertile expanse of the Shigar valley as you make your way. As evening descends, you will find yourself in Askole, surrounded by the towering peaks and perched high above the resonating Braldu river. The day concludes with a nourishing dinner, and you will spend the night enveloped by the rugged beauty of the area, camping under the starlit sky.
Day 04: Trek to Jhula (3500 m)

Continuing on, your route leads you to the juncture of the Braldu and Dumordo rivers. Traditionally, this portion of the trek involved scrambling over cliffs and navigating the river using a "flying box" bridge locally known as 'Jhola'. In more recent times, an alternative path upstream with a bridge allows for a safer river crossing, leading to your campsite situated on the riverbanks by the edge of the Braldu River. This day's journey encompasses not only the awe-inspiring natural landscapes but also a blend of history and modern convenience.

- Distance covered: 20 Km

- Altitude gain:100 m

- Trekking hours: 7-8
Day 05: Trek to Piaju (3666 m)

Embarking on today's trek, you'll trace the Braldu gorge along the riverbank, gradually revealing the mesmerizing granite formations of the Trango towers and cathedrals. The journey can become hot and arid, necessitating precautions against sunburn. As we draw near to the campsite, numerous glacial streams merge with the main valley, potentially requiring the use of river-crossing sandals depending on water levels.

Culminating the day's adventure, the path veers away from the river, leading to the Paiju campsite. Nestled within a cluster of trees, this campsite marks the final encounter with trees for a stretch of time, concluding the day's trek with a sense of seclusion and anticipation.

- Distance covered: 22Km

- Altitude gain: 250m

- Trekking hours: 8-9
Day 06: Rest Day at Paiju

Paiju serves as a customary resting spot for all trekking expeditions en route to Concordia. The site boasts flat terrains tailored for pitching tents, complemented by essential amenities like washbasins and bathrooms, all while offering some of the world's most captivating vistas.

Dedicating a full day to Paiju presents an ideal opportunity for acclimatization. During this pause, porters engage in baking an ample supply of bread in preparation for their onward journey onto the glacier. This interlude not only allows trekkers to adapt to the altitude but also showcases the meticulous planning and resourcefulness that define the expedition experience.
Day 07: Trek to Urdukas (3950 m)

Embarking on an early start, the day's journey leads us towards the terminus of the Baltoro Glacier. The trail traverses the glacier, gently veering towards the southeast margin. As we progress, the emergence of imposing granite peaks comes into view on the glacier's northern side. Notable among these are Paiju, Ulli Biaho, and Trango Towers, forming a remarkable panorama. Continuing onwards, we arrive at an army camp adjacent to a sizable moraine lake. The lush grassy expanse gradually transitions into a boulder-strewn hillside, and atop this rise of about 50 meters stands Urdukus.

Urdukus offers a vantage point that unveils truly sensational views of the renowned Trango Towers. Directly opposite, separated by a valley and nearly a mile away, the colossal rock walls of Cathedral Peak and Lobsang majestically ascend like protective ramparts over the glacier. This leg of the journey unites the trekkers with awe-inspiring natural marvels that leave an indelible imprint on the senses.

- Distance covered: 15 Km

- Altitude gain: 300m

- Trekking hours: 6-7
Day 08: Trek to Goro (4300 m)

The day's trek initiates with a descent from Urdukus, leading us on to the heart of the glacier. The trail predominantly follows the glacier's course, unveiling captivating sights along the way. As we head eastward up the Baltoro Glacier, the monumental granite facade of Masherbrum presents itself, with its snow-covered summit towering at 7,821 meters.

As dusk approaches, we establish our camp for the night at Goro II, a significant juncture where the Younghusband and Baltoro glaciers converge. Here, amidst this remote expanse, the nighttime temperatures are expected to plummet, providing a stark reminder of the glacier's formidable environment. This camping spot marks a tangible immersion into the glacier's icy embrace and sets the stage for further exploration of this frozen wilderness.

- Distance covered: 12 Km

- Altitude gain: 330m

- Trekking hours: 6-7
Day 09: Trek to Concordia (4550 m)

Embarking on the ultimate approach to Concordia, this day unveils arguably the most awe-inspiring mountain scenery to grace any corner of the world. The journey towards Concordia is accompanied by a gradually unfolding spectacle— the majestic presence of the triple-headed Broad Peak (8047m) comes into view, asserting its prominence in the landscape.

However, it is the renowned K2 that remains shrouded until the final moments, reserving its grand reveal for the arrival at Concordia. As trekkers reach this exceptional convergence, K2 unveils its true scale, soaring an astounding 4,000 meters above the valley floor to reach its summit. Concordia stands as a wild and magnificent expanse, where the glaciers descending from K2 harmonize with those originating from Gasherbrums and Chogolisa.

Settling into our camp, we find ourselves perched on a moraine ridge encircled by a panorama of rugged peaks. Among the sentinel-like summits are Gasherbrum IV, Mitre Peak, Chogolisa, Crystal Peak, Marble Peak, Baltoro Kangri, Broad Peak, and the monumental K2. This convergence of colossal mountains forms an unparalleled backdrop, transforming Concordia into a haven of both tranquility and grandeur, awaiting exploration and reverence.

- Distance covered: 10Km

- Altitude gain: 270m

- Trekking hours: 6-7
Day 10: Rest day or optional round trek to K2 BC (4550 m)

The journey from Concordia to K2 Base Camp and back can be achieved within a single exhaustive day, yet many trekkers opt for a more relaxed rhythm, choosing to relocate their camp from Concordia to K2 Base Camp.

While making our way towards K2, its colossal stature progressively amplifies, its sheer size looming ever larger against the landscape. Positioned directly beneath K2's imposing mass, our camp is set up along either side of the fractured glacier. This vantage point places us in intimate proximity to the mountain's formidable presence, offering an extraordinary perspective that accentuates its magnificence and sheer scale.

- Distance covered: 12Km

- Altitude gain: 485m

- Trekking hours: 6-7
Day 11: Trek to Ali Camp

Our trajectory toward Ali Camp directs us up the snow-clad expanse of the Vigne Glacier, urging an early start before the sun's warmth transforms the snow's consistency. Along the way, we traverse three valleys situated on the western flank of the Vigne Glacier, ultimately arriving at the Ali camp.

The camp's proximity to the glacier's margins exposes us to marginal crevasses, warranting a cautious approach as we make our way directly from the heart of the Vigne Glacier to the guarded enclave of Ali Camp. This leg of the journey showcases both the meticulous planning required for glacial travel and the harmonious integration of safety measures amidst the captivating expanse.

- Distance covered: 11Km

- Altitude gain: 360m

- Trekking hours: 5-6
Day 12: Trek to khuspang-Cross Gondogoro LA

With the break of dawn, we emerge from our tents for an early breakfast before donning crampons and harnesses. Roped together, we embark onto the West Vigne Glacier, setting off on a journey that spans 4 to 6 hours to reach the pass from Ali camp, aiming to reach to the top of the pass..

From the pass, a breathtaking panorama unveils iconic peaks including K2, Broad Peak, and the Gasherbrums. Amidst this majestic landscape, Laila Peak's granite pinnacle (6096m) stands as a graceful sentinel over the Gondogoro Glacier, marking the commencement of our descent.

The downward journey follows a steeper trajectory, utilizing fixed lines for a secure descent. As we transition from snow to solid ground, we remove our crampons to continue the journey. Our day concludes at Khuspang, a tranquil site graced by modest grass and reflective rock pools mirroring the beauty of Laila Peak. This campsite offers both reprieve and tranquility, forming a serene finale to a day brimming with challenges and remarkable vistas.

- Distance covered: 9Km

- Altitude gain 930m

- Altitude decline: 1260m

Trekking hours: 7-10
Day 13: Trek to Saicho

Embarking on today's trek, you'll encounter a relatively easier route that leads towards the picturesque Hushe Valley. Beginning by descending along the central moraine of the Gondogoro Glacier, your journey progresses to unveil the stunning Laila Peak about midway down the glacier. Venturing beyond the slopes of Laila Peak, you'll gradually shift to the glacier's edge, uncovering a passage that guides you away from the ice and debris, leading you into the ablation valley on its southern side.

The descent through the Gondogoro Valley resumes, with the day's outset involving a trail through this serene ablation valley where you spent the night. The day's campsite awaits at Saitcho (3350m), a sandy enclave adorned with scattered grasses, nestled beside the river at the convergence point of the Gondogoro and Charakusa valleys. This picturesque setting offers both comfort and respite, marking a tranquil juncture as your trek continues to unveil new dimensions of the awe-inspiring landscape.

- Distance covered: 12Km

- Altitude decline: 950m

- trekking hours: 5-6
Day 14: Trek to Hushe Village

This day offers a relatively easy trek spanning approximately 3 to 4 hours. The path tracks alongside the river, which is fed by the Gondogoro and Charakusa glaciers, eventually merging with those draining the Masherbrum and Ailling glaciers.

The valley's orientation shifts towards the south, and you'll begin to notice signs of human habitation, such as walls and temporary dwellings. Gradually, you'll arrive at the expansive fields of Hushe and ascend to a small plateau where the central village is located.

As we reflect on our journey, much like our initial steps into the high valleys of the Karakoram, our departure necessitates an exhilarating road journey via jeep. This final leg of the trip encapsulates the essence of adventure that has woven through our exploration of this remarkable landscape.
Day 15: Skardu to Islamabad

Embarking on our return journey, we take to the skies, soaring over the majestic expanse of the Karakoram Range en route to Islamabad. Following a satisfying lunch, the remainder of the day grants you the freedom to engage in independent sightseeing or to unwind at the hotel, allowing you to savor the final moments of your expedition and reflect on the awe-inspiring vistas and experiences that have accompanied you throughout your journey.
Day 16: Flyback to home

(If needed we can add one complete buffer rest day in Skardu)