Pakistan
Regular price
$2,450.00 USD
Regular price
Sale price
$2,450.00 USD
Unit price
per
Sale
Sold out
Share
HIGHLIGHTS
AREA: KARAKORAM RANGE, PAKISTAN

DURATION: 9 Days, 8 Nights

DIFFICULTY: Moderate
Max Altitude: 15,400 ft

Total Trekking: 30 kms approx

Terrain: Rock, boulders, gravel, sand, meadow trails.
Group size: 8-15 Trekkers
DESCRIPTION

Embark on the ultimate adventure of a lifetime with ADA as we take you on a mesmerizing trekking and camping trip to Thallay La - a thrilling journey designed for beginners seeking an unforgettable experience and a gateway to more serious treks in the future! Get to explore the majestic Karakoram and Himalayan mountains from this trek from Khaplu to Shigar. Our experienced guides and supportive team will ensure your safety and comfort, allowing you to unleash your adventurous spirit and create lasting memories.
Included

All transportation whilst on tour 
All accommodation whilst on tour 
Twin sharing rooms and tents
·All meals whilst on tour 
Cook: Professional cook throughout the trek to cook hygienic & fresh food.
ADA and local guides
Porters for group gear
Porterage: The allowance for your main bag is 15 kg
Entry fee: All Camping fees, government taxes.
One on one pre-tour support
Safety: Safety rope. (if required)
Not Included

Any pre-tour or post tour accommodation
Personal trekking equipment/clothing.
Extras at hotels or during traveling.
Personal insurances of clients.
Mule/Horse support rental and/or evacuation and rescue charges during tour 
Any personal medication
Any expense due to forced measures, natural calamities, acts of God, forced majeure: beyond the control of ADA, their staff and suppliers.
Travel insurance
Tips for guides and porters
Sleeping bag and sleeping mat (available on request)
Anything else not mentioned
View full details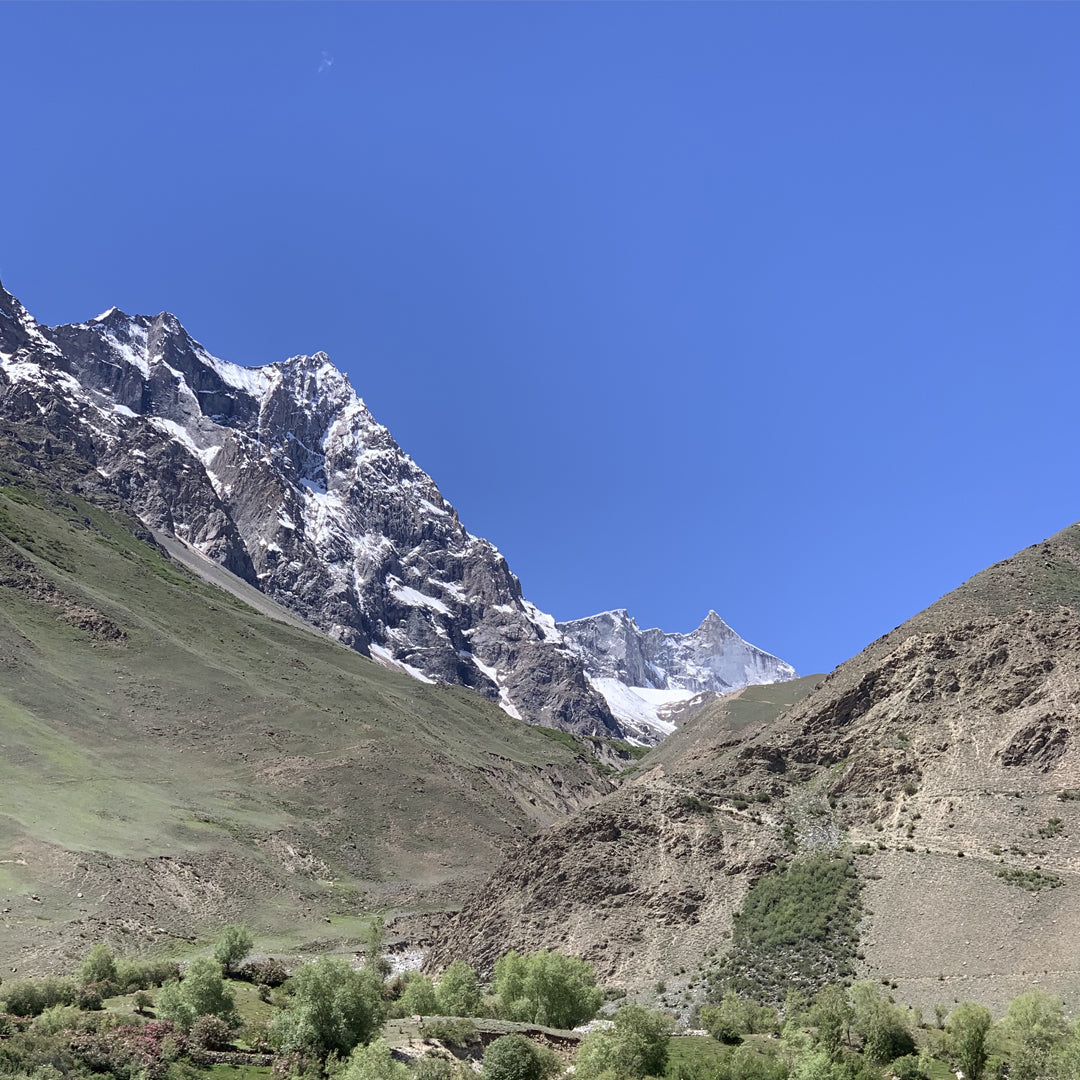 Itinerary and Map
Day 1: Arrival in Islamabad

Upon your arrival in Islamabad, you will be greeted with a warm welcome and assistance at the airport. You'll then be transferred to your designated hotel. Enjoy an overnight stay in the comfort of the hotel in Islamabad, preparing for the upcoming adventures.
Day 2: Flight to Skardu

The first chapter begins upon your arrival in Skardu. Skardu, with its rugged terrain and breathtaking vistas, welcomes you to a region characterized by its natural splendor and unique charm. From Skardu, your path leads you to Yugo, a beautiful village located en route between Khaplu and Shigar . As you transition from Skardu to Yugo, you'll likely traverse diverse landscapes, be it winding roads, sweeping valleys, or majestic mountains.
DAY-3: Acclimatization in Yugo

On the second day of your adventure, a significant focus is placed on acclimatization as you engage in a trek through the charming Yugo village. This essential step allows your body to gradually adjust to the altitude and conditions of the region, ensuring a smoother transition into higher elevations in the days to come. Yugo village, with its serene surroundings and local culture, provides an ideal setting for this purpose. This acclimatizing trek serves as both a physical endeavor and an enriching experience, as you become attuned to the rhythms of the region while absorbing the natural beauty that envelops you.
DAY-4: Thallay to Dubla Khan campsite

On the third day of your journey, you'll embark on a captivating adventure as you depart from Yugo for Thalay. A scenic 2-hour jeep drive will transport you from Yugo to Thalay, setting the stage for your trek. The trek commences from Dunsa Thalay Broq, guiding you through the captivating landscapes of the region. As you make your way, you'll traverse the trail to reach the Dubla Khan campsite. This day's trek spans approximately 6 hours, allowing you to relish the sights and experiences that unfold along the path.
6hr trek
DAY-5: Dubla Khan campsite - Thallay La pass - High camp

On the fourth day of your journey, a significant challenge awaits as you tackle the Thalay La pass at an altitude of 4700 meters. This demanding endeavor will test your endurance and determination, rewarding you with panoramic views and a profound sense of accomplishment. After conquering the pass, you'll continue your trek to reach the high camp. This day's trek spans approximately 7 hours.
7hr trek
DAY- 6: High camp - Camp 3

On the fifth day of your expedition, your journey leads you towards Shigar Broq, embarking on a trek that promises a fulfilling day of exploration. As you set out on the trail, you'll traverse the diverse landscapes that characterize the region, offering a blend of challenges and rewards. The approximately 7-hour trek brings you closer to the Shigar valley campsite, where you'll find respite amidst the awe-inspiring surroundings.
7hr trek
Day-7: Camp 3 - Shigar Khas - Skardu

This is the last trekking day, your journey takes you to Shigar Khas as you set out on a trek that promises a day of engaging exploration. The trail leads you through captivating landscapes, providing a mix of sights and experiences that reflect the region's diverse beauty. After the trek, a 45-minute jeep drive awaits, transporting you to the town of Skardu, where you will spend the night.
Day-8: Flight to Islamabad/Home

Write to us when you get home! Safe travels