Pakistan
Blah Blah Blah Motorcycles
Regular price
$4,200.00 USD
Regular price
Sale price
$4,200.00 USD
Unit price
per
Sale
Sold out
Share
HIGHLIGHTS
Area: Himalayas & Karakoram Range, Pakistan

Duration: 13 Nights - 14 days

Difficulty: Moderate Strenuous
Max Altitude: 15,400 ft

Total Ride: 2500kms

Motorcycle: Honda CB150F
Terrain: Gravel, sand, rock beds, hills, tarmac

Group size: 8-12 Riders
DESCRIPTION

Blah Blah Blah Motorcycles (BBBM) brings together motorcyclists and communities through the time honored oral tradition of storytelling. Whether you're exploring international roads or local hot spots, the act of sharing a story highlights the shared experiences of traveling on two wheels. Each event brings to the stage local and touring motorcyclists to blah blah blah their tales of riding. Their story is admired and applauded and their account is recorded and uploaded to social media as a way to preserve and document the stories of an often misunderstood lifestyle. 
BBBM joins A Different Agenda for this unique opportunity to explore Pakistan's culture and landscape along with the chance to blah blah blah your own tale of the weeks' travels at the first international BBBM Storytellers Event.
Embark from Islamabad, Pakistan's vibrant capital nestled amid Margalla hills, a city teeming with life, foreign diplomats, and restaurants. Ease into riding on the "wrong" side with a short first-day ride. Then, journey to Naran, the gateway to vast mountain ranges.
Conquer the stunning Babusar Pass at 13,700 ft, unveiling surprises with each twist. Explore Rama Lake under Nanga Parbat's towering presence. Engage in cricket with locals or wander among oak trees. Traverse Deosai Plains, a land of giants, before reaching adventure-filled Skardu, a hub for thrill-seekers and alpinists from arond the globe. 
 Discover mountaineering treasures in Skardu's bustling bazaar. Journey along the Jewel road to Gilgit, through Hunza's historic villages, and ascend Khunjerab Pass to the China-Pakistan Border at 15,400 ft. Conquer the challenge of Karakoram Highway, experiencing local culture and hospitality.
In Hunza, we will host the first international BBBM Storytellers Event by sharing stories of our travels with kids in a local school. With the help of BBBM, we aim to inspire young kids/students to not give up on their dreams and that anything and everything is possible. 
Returning to Islamabad, your mountain days will transform your perception of travel, beckoning for future returns. This journey blends culture, nature, and thrill, unveiling Pakistan's wonders.
Included

Personal meet and greet services
Private Airport Transfers
Bike + Fuel: HONDA CB150F
Basic spares, tools and First aid kit
Support Car for luggage
All Park fees, entry fees and Government Taxes
Professional experienced english-speaking guide and full-time mechanic
Bottled pure mineral water during riding hours
Full board accommodations and all 3 meals every day
Not Included

International flights
Driver/guide gratuities
Drinks/laundry
Any other items of a personal nature
Personal travel and medical insurance/expenses
Expenses in case of emergency evacuation service
Drinks/snacks and personal expenses
Visas and vaccinations
Travel and tour expenses aside from mentioned tour dates
View full details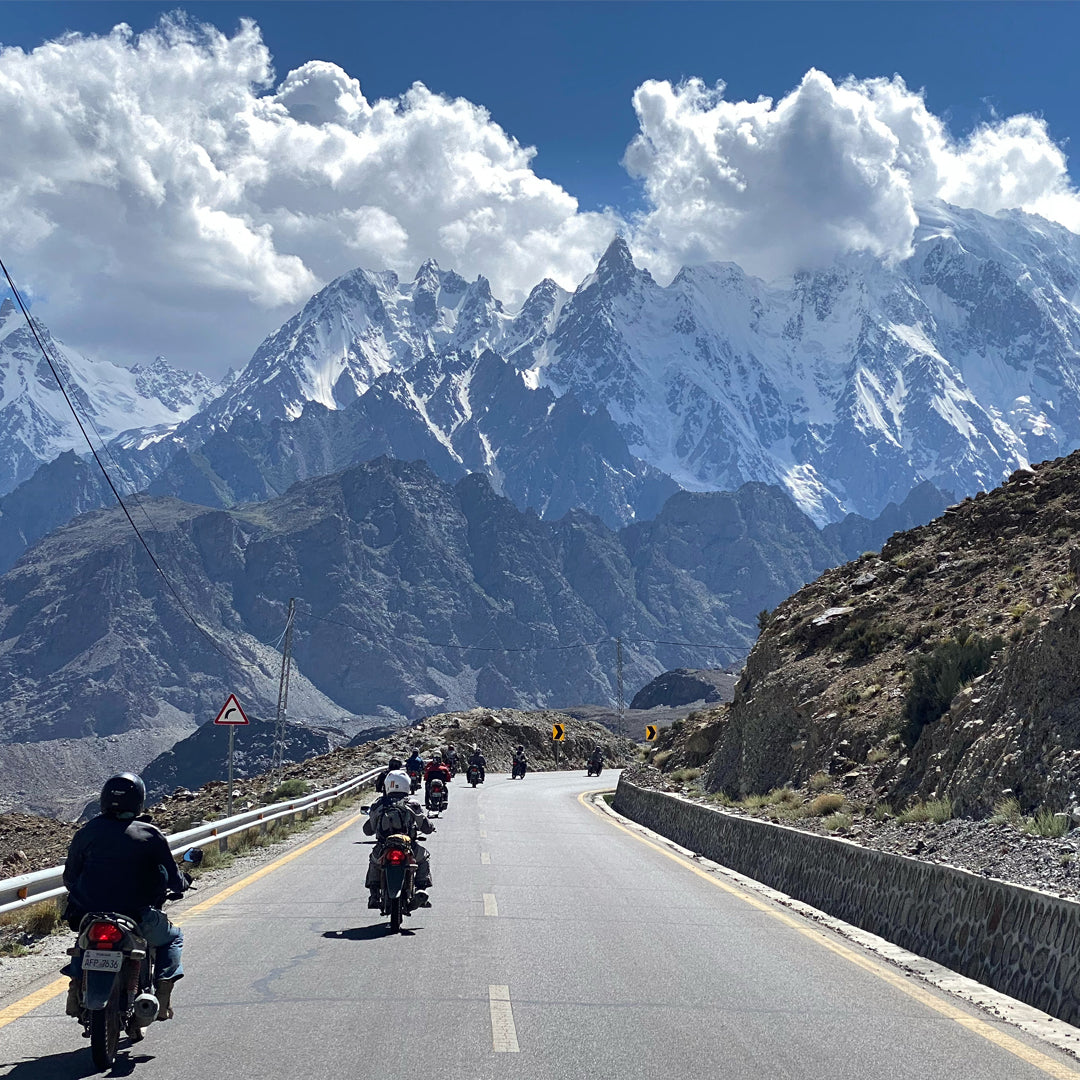 Itinerary and Map
Day 01: ISLAMABAD

Explore Islamabad, visit the famous Faisal Mosque, eat at a local joint, do some last minute shopping before we venture out into the mountains.
DAY 02: ISLAMABAD TO BALAKOT

We will hop in our support vehicle and drive a couple of hours outside of islamabad where you'll meet your motorcycles, any adjustments required can be taken care of here, an early night so you're fresh for your first day on the motos tomorrow!
DAY 03: BALAKOT TO NARAN

It'll be your first day on the motorcycle in Pakistan so we leave early in the morning to beat the traffic and get into the mountains. Breakfast is going to be one of those hidden gems on the side of the road and you'll get to ride along the famous Kunhar River. We try our best to stay at family run guest houses/hotels for a more personalized experience.
DAY 04: NARAN TO HUNZA

Naran is known to be the entry point to the mountains, you get to cross Babusar Pass 13,700ft one of the most spectacular high passes in the country. You finally get a chance to ride the world famous Karakoram Highway today!
DAY 05: REST DAY IN HUNZA – VISIT THE BAZAAR ALTIT/BALTIT FORT

Hunza has a lot to offer, one of the most vibrant bazaars in GB has to be the Karimabad Bazaar. From old ancient jewels, to hand made handicrafts, silk carpets and clothes.. Karimabad is also home to the famous Walnut cake at Cafe de Hunza. A lot of history too so you'll be visiting some 1000 year old forts too. My favorite is the all women furniture factory, Hunza has a 95% literacy rate, one of the highest in the country.
DAY 06: HUNZA TO KHUNJERAB AND BACK DOWN TO GULMIT

An exhilarating ride up Karakorum highway to the Pakistan/China Border 15,400ft above sea level is a real treat to experience on two-wheels. You might also get lucky and see the super rare Markhor, Ibex or even the snow leopard.
Day 07: REST DAY IN GULMIT

Explore Gulmit area, Hussainy suspension bridge or maybe a short hike up Passu glacier. Visit the all women weaving centre!
DAY 08: GULMIT TO SKARDU

This road used to be knows as the "Death Road" however its now fully paved and although they have widened the road quite a bit, it's still an experience to ride alongside the mighty Indus river. Take lots of snacks with you because getting lunch on the road is rare, heavy breakfast before you leave Gulmit and a bunch of snacks for the road will help you get to Skardu.
DAY 09: SKARDU – REST DAY

Skardu has a lot of history, all the world class climbers land in Skardu before climbing the world's biggest mountains. All the major expeditions start from Skardu so you usually bump into famous climbers here. Gazing at the stars!
DAY 10: SKARDU TO ASTORE/RAMA VIA DEOSAI PLAINS

You'll be crossing the second highest plateau in the world, Deosai Plains also known as the Land of the Giants, is a high-altitude alpine plain with an average elevation of over 13,500Ft. above sea level.
DAY 11: RAMA TO NARAN

We head back to over Babusar Pass 13,700ft one more time. Climbing up Babusar Pass from this end is challenging as it gets quite steep, however the super nice paved road makes it really fun.
DAY 12: NARAN TO BALAKOT

One last day of riding through the hustle bustle of Abbottabad, we go through Nathia Gali before entering Islamabad.
DAY 13: BALAKOT TO ISLAMABAD

Depending on the riders navigation around traffic, we can leave the motorcycles in Balakot and take our support trucks to Islamabad. Option to ride into Islamabad is always there, but the traffic is insane so we recommend driving into Islamabad and not riding.

LAST MINUTE SHOPPING/REST DAY BEFORE THE FLIGHT OUT
DAY 14: ISLAMABAD - FLY HOME!!

Fly Home! Write to us once you reach home. Safe travels