Pakistan
LIZA MILLER
Regular price
$4,200.00 USD
Regular price
Sale price
$4,200.00 USD
Unit price
per
Sale
Sold out
Share
HIGHLIGHTS
Area: Hindukush & Karakoram Range, Pakistan

Duration: 16 Days, 15 Nights

Difficulty: Moderate Strenuous
Max Altitude: 15,400 ft

Total Ride: 2500kms

Motorcycle: Honda CB150F
Terrain: Gravel, sand, rock beds, hills, tarmac

Group size: 8-12 Riders
DESCRIPTION
Experience the transformative Chickistan motorcycle tour, a journey that began in 2017 with 12 remarkable women from diverse corners of the world. Launching from Islamabad, we explored schools, hospitals, historical sites, and hidden gems across Pakistan's northern mountain region. Chickistan forged profound bonds among riders, locals, and landscapes, leaving an indelible mark.
Now in its 5th year, Chickistan has become a celebrated summer tradition, showcasing the splendors of our homeland, Pakistan. Chickistan has been a strictly women only tour, but this year for the very first time, we're mixing it up. Riders are permitted to bring along their plus ones. 
Join us in Islamabad, the green capital and embark on an epic ride to Naran, a gateway to majestic mountain ranges, and conquer the breathtaking Babusar Pass at 13,700 ft. The journey through Hunza and ascent to Khunjerab Pass at 15,400 ft, near the China-Pakistan Border, reveals the magnificence of the Karakoram Highway.
Engage in local culture, savor flavors, and immerse in Pakistan's renowned hospitality. Traverse the world's highest polo field at Shandur, explore Kalash's indigenous heritage, and retrace your path to Islamabad.
As the tour concludes, you'll depart with transformed perspectives, eager to return for more of Pakistan's captivating beauty. Join this initiative that not only enriches your life but contributes to Pakistan's flourishing tourism. Sign up now for an unforgettable adventure.

ABOUT OUR TOUR LEADER, LIZA MILLER 

Liza Miller, the incredible leader of the Chickistan tour for the past 5 years at ADifferentAgenda. She's a motorcycle enthusiast hailing from Santa Cruz, California. In her hometown, she runs the Re-Cycle Garage, a cool co-op motorcycle garage that's been supporting the two-wheeled community for over 12 years. 
Liza is the host and producer of the Motorcycles & Misfits podcast, which is one of the longest-running and most successful motorcycle podcasts you can find. If you're into bikes, you definitely want to check that out. She is also a talented writer and director. She's behind two short movies, "The Sobbing Scooterist" and "Motosexual." This woman is a creative powerhouse! 
Liza is the VP of Marketing and Global Routing for the Women Riders World Relay. That's a mouthful, but it means she's doing some big things in the motorcycle world, promoting and connecting women riders worldwide. And if all that wasn't enough, Liza has even received the "Friend of the AMA" award from the American Motorcycle Association. 
Now, let's talk about Chickistan. It's Liza's brainchild, and it perfectly aligns with ADifferentAgenda's mission. It's all about showcasing the beauty of Pakistan and breaking those negative stereotypes people might have about this incredible country.
Chickistan's mission is simple but powerful: to encourage female bikers and travelers to explore the unfiltered beauty of Pakistan. So, thanks to Liza's passion and dedication, women from around the world get to experience the magic of Pakistan and see it in a whole new light. That's the Chickistan story in a nutshell, and it's one heck of a ride!
Included

Personal meet and greet services
Private Airport Transfers
Bike + Fuel: HONDA CB150F
Basic spares, tools and First aid kit
Support Car for luggage
All Park fees, entry fees and Government Taxes
Professional experienced english-speaking guide and full-time mechanic
Bottled pure mineral water during riding hours
Full board accommodations and all 3 meals every day
Not Included

International flights
Driver/guide gratuities
Drinks/laundry
Any other items of a personal nature
Personal travel and medical insurance/expenses
Expenses in case of emergency evacuation service
Drinks/snacks and personal expenses
Visas and vaccinations
Travel and tour expenses aside from mentioned tour dates
View full details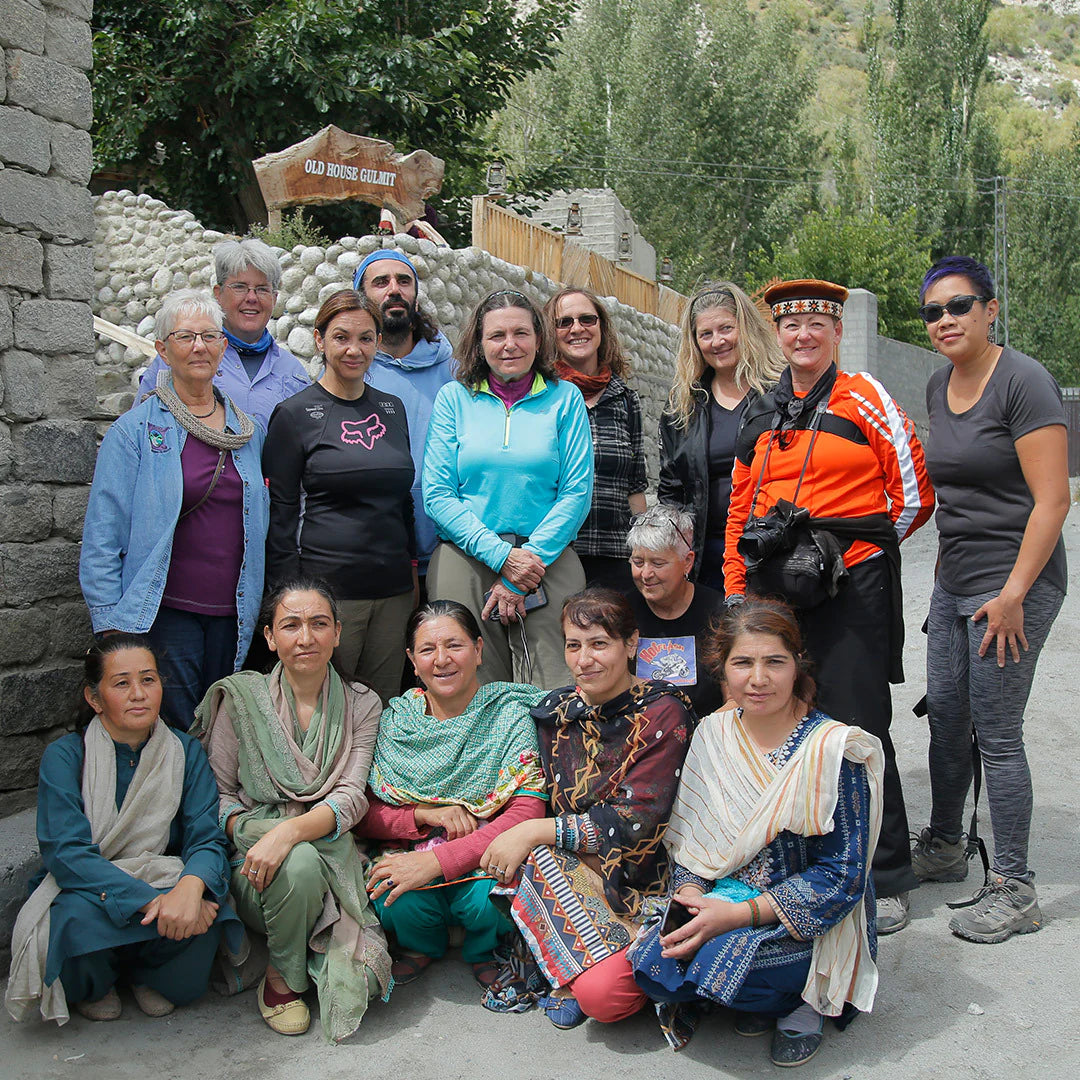 Itinerary and Map
Day 01: ISLAMABAD ARRIVAL/ AIRPORT TRANSFERS

Explore Islamabad, visit the famous Faisal Mosque, eat at a local joint, do some last minute shopping before we venture out into the mountains.
DAY 02: ISLAMABAD TO SWAT

We will hop in our support vehicle and drive a few hours from Islamabad to Swat where you'll meet your motorcycles, any adjustments required can be taken care of here, an early night so you're fresh for your first day on the motos tomorrow!
DAY 03: SWAT TO KALAM

It'll be your first day on the motorcycle in Pakistan so we leave early in the morning. Swat to Kalam is the region that was hit by devastating floods in 2022. Mostly paved and a bit of off-roading all along the Swat river. We try our best to stay at family run guest houses/hotels for a more personalized experience.
DAY 04: KALAM TO KUMRAT (Over Badgoi pass)

Complete off-road to our resort in Kumrat from Kalam. We will cross the Badgoi pass through the magical Ushu forest into gorgeous meadows at the top to reach Kumrat valley. Riding through water crossings and picturesque streams. This should be a beautiful riding day!
DAY 05: REST DAY IN KUMRAT

Nestled within the heart of the lush Kumrat forest, our resort awaits beside the tranquil river. We'll spend a leisurely day of relaxation and delectable dining while swaying in hammocks. Explore the expansive property on bicycles or ATVs and rest up!
DAY 06: KUMRAT TO NAGHAR FORT

An exhilarating ride with mostly asphalt to the village of Naghar, where our destination is the Naghar Fort – a resort operated by a polo-loving family. Renowned as champions of the Shandur polo festival, hosted at the world's highest polo field (on our route to Phander). We will get to visit the stables of their champion horses during our stay.
DAY 7: NAGHAR FORT TO AYUN FORT (VIA KALASH)

This will be a very special day for us as we make our way to Ayun Fort via Kalash valley. The Kalasa people who are believed to be the last descendants of Alexander the Great, a lost tribe hidden in a remote village. We shall immerse ourselves with this unique and vibrant tribe of indigenous people, amidst their village, their traditions, their incredible school and immense beauty. We will hear their stories, learn their history, and do everything in our power to ensure their future. Before dark, we will make our way to Ayun and check in to our favorite family run hotel/fort.
DAY 8: AYUN FORT TO MASTUJ

From Ayun, a broken road will lead us to a small little town tucked right below the Broghil Valley/Wakhan Corridor, Mastuj.
DAY 9: MASTUJ - PHANDER

There will be plenty of scenic gems to take in along our ride today. Lunch will be en route. We will stop at Shandur Pass, the world's highest polo field, and make our way to  picturesque Phander where we'll indulge in riverside glamping beside the serene Phander river. We might even try our hand at fishing for a fresh and appetizing dinner delight.
DAY 10: PHANDER - HUNZA

The journey from Phander Valley to Hunza is not just a ride; it's a sensory voyage that allows you to truly immerse yourself in the breathtaking landscapes and unique charm of this incredible region. Lunch will en route as we make our way on to the marvelous Karakoram Highway towards Aliabad, Hunza
DAY 11: HUNZA REST DAY

After enjoying our beautiful breakfast overlooking the majestic Rakaposhi mountain we will enjoy a day off the bikes. We'll visit the Karimabad, Hunza Bazaar and head up to the 800-year-old Biltit & Altit Fort. Here we'll have tea and lunch overlooking the Hunza river. On the way back we'll stop at CIQAM, an all women run woodworking factory. Afterwards we'll return back to our hotel for dinner and have Moin show us some magic tricks!
DAY 12: HUNZA - KHUNJERAB PASS (CHINA BORDER) - GULMIT / EXPLORE MISGAR VALLEY INSTEAD

Breakfast will be served bright and early. It's gonna be a long climb up to the world's highest frontier. CHINA. We'll go through tunnels, pass lakes, and glaciers. You'll ride through some of the wildest sceneries you've ever seen in your life. The Pak-China border is at a whopping 15,400 ft altitude. So forgive us if we don't stay and party there too long. On the way back we'll stop and rest in Gulmit for the night along the magical Hunza River. 

Alternatively if you have already ridden to Khunjerab Pass and do not wish to ride there again you can ride Misgar valley, a hidden gen not many have explored. Off-road heaven!
DAY 13: GULMIT REST DAY

During this day, you'll have the choice to cruise on your bikes or ride in our support vehicles. Our first stop will be the Hussaini Suspension Bridge, offering you the opportunity to cross the Hunza River on the scariest pedestrian bridge on the planet. Following that, we'll head to the women's weaving center and the NKMA community-based school, where you can engage with the local children.

We'll rendezvous at Attabad Lake for an exhilarating boat ride or a playful ride on jet skis – a fitting way to cap off the day's explorations. So, whether it's wheels or water, the options are yours to embrace!
DAY 14: GULMIT TO NARAN

We're starting our descent from Gulmit. We'll be on Karakoram highway for the most part of this long ride till Chilas. After which we will make our way to Naran via the Babusar pass.
DAY 15: NARAN TO ISLAMABAD

This will be our last day on the bikes. Once we reach the capital make sure to hug our support crew tight and thank them for keeping us safe and alive throughout the tour. This will be the last night that's included in the package, however, if you still want second servings of adventure additional nights can be arranged for you to explore this grand city as it has so much to offer.
DAY 16: FLY HOME

Write to us when you reach home!